Autistic young man gives the best speech at brother's wedding that brings down the house
This is my favorite wedding speech - I laughed and cried all the way through.
The joyous occasion of Jonah and Maddy Waldron's wedding was made even more special when Jonah's brother, Sam, who has autism and social anxiety, delivered a deeply moving speech at ther reception.
This moment of pure love and sincerity was captured on video, quickly going viral and touching the hearts of millions of viewers.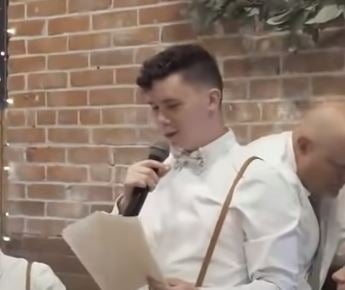 It begins with Sam bravely standing in front of 170 guests at the beautiful Iowa wedding.
Public speaking can be a daunting task for anyone, let alone someone with social anxiety.
Jonah's pride in his brother is evident and well-deserved. Sam is an extraordinary young man.
Yet, Sam took the mic with grace and began,
"You see, I have autism. My autism can make me terribly scared to interact with people, let alone give a speech in front of 170 of them, for Pete's sake.

But there is one person in the world I would do this for, Jonah Waldron. Check that. There are two people in the world I would do this for: Maddy and Jonah Waldron."
As Sam continued his speech, the newlyweds were seen wiping away tears.
He welcomed his new sister-in-law to the family with a humorous comparison, saying they were, "like a good fudge – mostly sweet with a bunch of nuts."
He also playfully noted that Maddy had married "the second most handsome Waldron" but assured her that she had "all the makings of a great sister."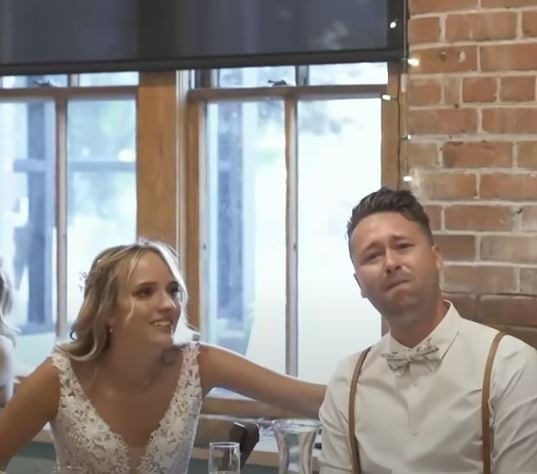 Sam then shared a heartfelt message with Maddy,
"For me personally, Maddy, you know that sometimes I can get very uncomfortable and nervous around many people … I have never been that way around you. You give me peace. You bring peace to all of those around you."
Turning his attention to his brother, Sam expressed his gratitude for Jonah's unwavering support,
"Jonah, growing up as your little brother, you never looked down on me. You lifted me up and looked out for me. You always reminded me that being different is a real strength, not a weakness. You were, and are, patient and kind. You love me just as I am."
Sam lightened the mood by humorously listing his academic achievements that his brother never accomplished, much to the delight of the guests.
He concluded his speech by expressing his love and best wishes for the newlyweds.
"To this day, you support me. You listen to me, you are in the present, I am so proud of you and Maddy … God bless you, I love you both."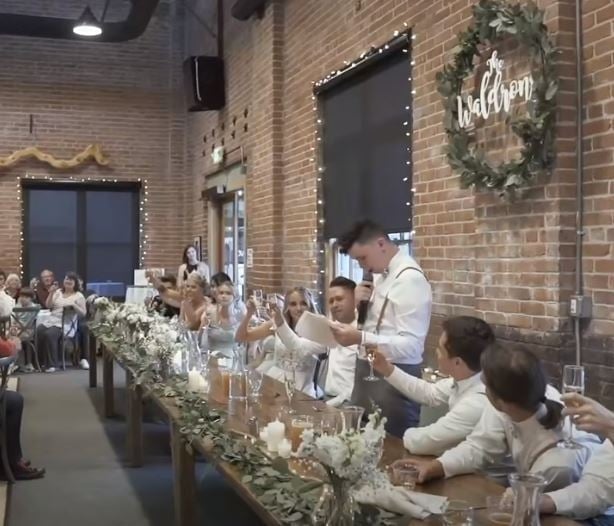 Despite his fears of social gatherings and public speaking, Sam's speech was a testament to his courage and love for his family.
His brother Jonah looked on with pride, and the guests gave Sam a standing ovation.
Despite initial nerves, by the time he finished his speech, he had the entire room oscillating between laughter and tears.
A standing ovation was the perfect ending to his speech. Here's to the happy couple, and to Sam's bravery!
Please SHARE this with your friends and family.
Source : https://seeitlive.co