Fierce 101-year-old woman from Maine is still lobstering with no plans of retiring
She's known as the "Lobster Lady," and she's absolutely incredible.
Retirement is something most people look forward to, but not this woman.
Virginia "Ginny" Oliver has been working on lobster boats for most of the last 90 years.
Ginny was born in 1920 on Claredon Street in Maine and can still be found living there.
While not in the same house as she was born in, Ginny and her late husband bought a house on the same street, it is the house she raised her four children in and one that the grandkids love to visit.
The woman started her lobstering career at the young age of 8 years old.
She would work on the boat with her father and brother catching both lobster and sardines to sell to local factories for processing.
They would, however, take home some of their catch, something Ginny still does.
She says she enjoys lobster rolls made "with Maine lobster, a grilled bun, a little mayo, and nothing else."
She is also known for her baking, famous for her doughnuts, cakes, and brownies.
And every week Ginny's family still come home for a their mother and grandmothers baked beans, it is a Sunday night tradition in the Oliver household. Luckily, Ginny's 75 year old son, Max, recently moved back home to help support his mother, though she certainly doesn't seem to need it.
The centenarian woman is well aware that she is coming to the end of her days, but "You're not gonna live forever, so why let it bother you." is her motto.
Ginny is a tough cookie, she is known as "The Boss" and she won't let you forget it, that being said though, she has continues to maintain a wicked sense of humor.
When her doctor asked her why she was still lobstering as a 101 year old her clear and final response was, "Because I want to.".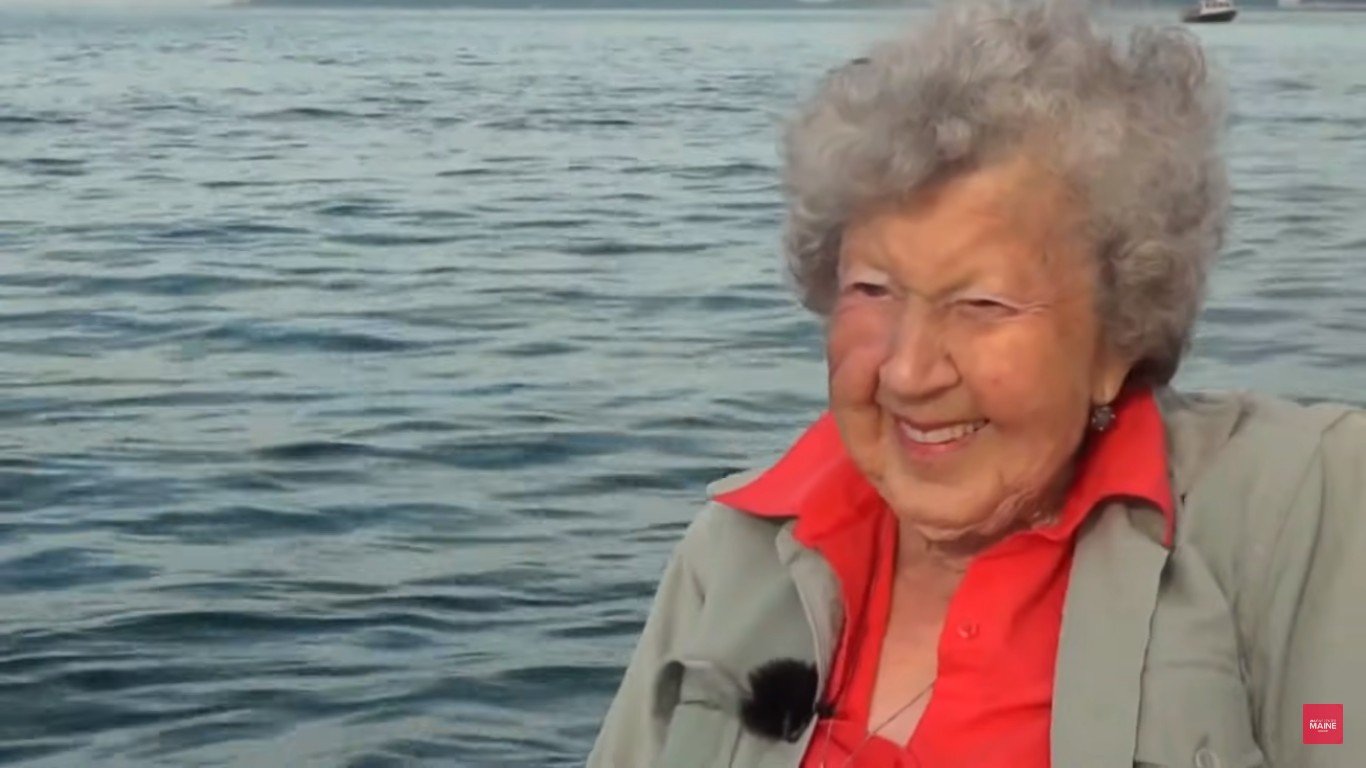 In her 90+ year long career, Ginny has been lucky to have gotten very few injuries.
One of her more serious injuries wasn't even caused by a lobster, but by a crab! She said that as she was grabbing a few crabs to bring to her son-in-law, one of them snipped her finger requiring her to get 7 stitches. She laughs as she says that if there wasn't a bone in the way the crab would have snipped her finger clean off.
One of the things Virginia is most worried about isn't herself, it is the state of Maine's lobster numbers.
Lobsters make up about 82% of Maine's commercial fishing business, but with offshore wind development, tidal changes, and overfishing that could change dramatically in the coming years.
Each lobsterman is given a certain number of pots they can haul and they must ensure that the lobsters they keep are large enough, they want encourage the population by allowing the more juvenile crustaceans to continue to grow and mate.
That being said, when asked when she planned to retire, Ginny firmly stated that it will only be "When I die.".
Hopefully that won't be for a long time as Ginny "The Lobster Lady" Oliver has more life in her than many people half her age. Plus she has a boat named after her and who wouldn't want that!
Please SHARE this with your friends and family.
Source : https://shareably.net