Heartbroken baby donkey sobs for days until he finds a "new" Mom
The poor little thing was rejected by his own mother.
A poor little baby animal was experiencing one of the toughest things an animal can in life.
He had been abandoned by his mom and left to fend for himself.
In an animal sanctuary based in the U.K., a baby donkey wails for his mother.
Unfortunately for this foal, his cries fell on deaf ears for his mother won't come back for him.
He spent the first moments of birth alone and afraid.
Some baby animals are rejected by their mothers for a variety of reasons.
Sometimes, mothers leave their babies for the sake of survival.
When food is scarce, for example, mother animals might be forced to choose between their children.
Ben's mom was already pregnant when she came into the sanctuary. He was her first foal, and yet she rejected him. Poor Ben didn't even have the chance to suckle on her.
According to the sanctuary, Ben emerged literally not knowing who he is.
They never knew why she did, but all they know is the baby needed help – their help.
They bottle-fed Ben throughout the night.
They switched between staff and bottles every four hours, making sure that Ben receives the care he needs.
Not only that, but they also trained him to move around and get along with other donkeys.
But they knew their efforts won't be enough. What Ben needs is a mother. He needs someone to bond with.
This is where Jingles comes in.
The sanctuary was lucky enough to have this mare with them. Jingles had a foal so she has experience in rearing and taking care of a younger donkey. Since she didn't have a bonded friend, Ben is the perfect friend for her.
They brought Jingles into the sanctuary together with Ben.
At first, Ben was anxious and terrified.
He doesn't know who the mare is and he doesn't know how to move around her. There were times when Ben would run off any moment Jingles would come close.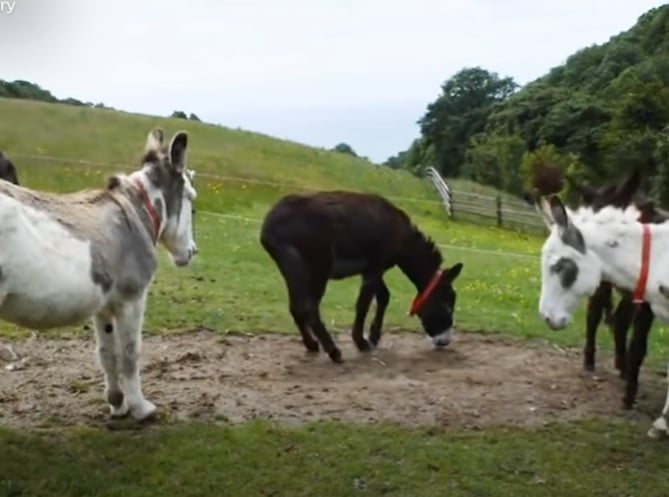 But Jingles was patient.
She's a mom and she knows how to make Ben comfortable. It took around 4 to 5 hours before Ben warmed up to her.
Once he ran up and beside her, Jingles was also comfortable enough to give the little donkey a nuzzle to help him calm down. For the first time after a very long while, Ben finally knew how it feels like to have a mother.
The feeling was mutual, though, because at that moment Jingles remembered how to be a mother.
Even when Ben started to grow up and hang out with his own set of friends, Jingles was always close. Sometimes even too close that Been feels like she's fussing on him too much.
A year later, Ben emerged a different kind of donkey.
He's much more confident and independent. He's also attentive and well-behaved.
He melded well with the herd and found his place among them.
This little donkey had a tough start in life, but the kindhearted staff at the sanctuary and Jingles helped him grow into a happy, healthy donkey.
Please SHARE this with your friends and family.
Source : https://animalchannel.co