K9 is honored with 1 last ride in police car before being put to sleep
After years of service, Zeus' fellow officers wanted to give him the proper send-off he deserved.
All animals deserve our respect, but police dogs play a particularly honorable role in society.
A K9 is specially trained to work with the police, and must be incredibly well disciplined to work in high-pressure scenarios.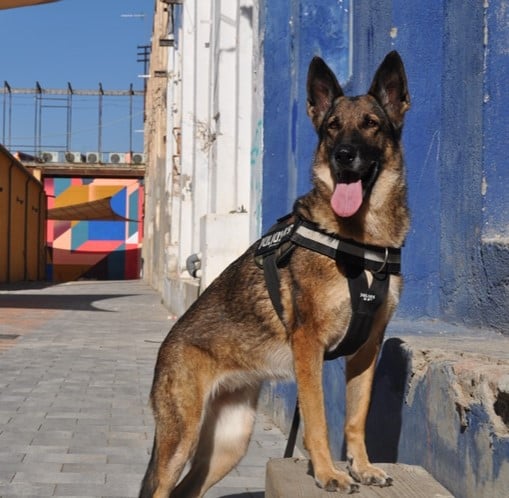 There are several police dog roles in the field, and none of them are particularly easy.
The most common K9 job roles are in search and rescue, narcotics and arson detection, and cadaver detection.
Often, a police dog's input can make a huge difference when it comes to making an arrest. But these dogs also form close bonds with their police handlers – and that's why it's so emotional when a dog has to leave the service for good.
At the Ridgefield Police Department, a flag was raised at half-stand, and a black cloth was draped above the entrance.
Police were saying goodbye to a very special member of the team.
Zeus, a German Shepherd who served the department for nine years, was given the same emotional send-off as any human police officer would have.
It would be his final ride in a police vehicle.
A procession of squad cars followed Zeus' car to the Ridgefield Veterinary Hospital, where he was wheeled through a waiting crowd of servicemen.
Speaking before Zeus was taken inside, one officer said:
"It's with tears in our eyes that we must say goodbye. He wore the Ridgefield police badge with respect, pride and dignity."
Zeus was described as an "alpha dog", and had assisted officers with hundreds of arrests.
He had done some amazing things for the police department, after joining way back in 2006.
Over his years of service, Zeus had conducted over 50 tracks for missing or wanted individuals, managing to locate 6 people who were in life-threatening situations and 6 suspects that had fled the scenes of crimes.
But now, it was time for him to hang up his leash for good.
Chief John Roche of the department said that it was an "honor" to be there for Zeus's last moments.
He added:
"The disease that had racked him had deteriorated him to such a point where it was just so difficult for him to exist and continue on."
Anyone who's been a pet owner for a few decades will know the heartbreak of deciding to get your beloved furry friend put down.
But sometimes it really is for the best – when an animal's quality of life becomes so poor that they're no longer happy. Zeus had a severe degenerative hip disorder, and after retiring from the force, his health declined quickly.
One thing's for sure, while Zeus might be gone, he certainly isn't forgotten.
In a beautiful post shared recently to Facebook, the Ridgefield CT Police Department wrote that they still missed their canine friend, five years on.
After sharing some of Zeus's most notable achievements, the post finished:
"Zeus was a valued member of our team as well as our community. He will always remain in our thoughts, and never be forgotten."
Zeus clearly lived a long and happy life, and, by the looks of things, enjoyed his time in the police force thoroughly.
Not every dog can get to say they took on such an important job role, after all!
Please SHARE this with your friends and family.
Source : https://animalchannel.co